Completely customizable!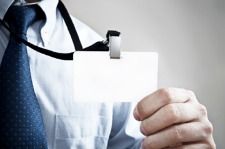 We offer complete badge printing services from border design and printing to individual name imprinting. We can also print on your existing badge stock. We provide badge cases and lamination to ensure that your meeting, conference or convention is a success!
Border Printing: The logo or colored border that you see at the top or bottom of our badges.
Individual Name Imprinting: Once you have compiled a list of 50 or more names, companies, etc. we will imprint the information on the pre-printed badge stock.
Laminated Badges: This is our highest quality and most popular badge. Once the badge is printed it is sealed in plastic and either a clip or pin/clip combo or magnet is attached so the badges come to you ready to wear.
Back Printing: An efficient alternative to handing out easily lost schedules. We can print a general conference schedule on the back of your badges, we can even print personalized schedules.